GAS has struck - I have bought another guitar! - photos!
Second hand, but in very good nick, the seller is hoping to get it posted next day delivery, tomorrow, so with luck I should have it on Friday. Anyhow, for some bizarre reason or other, last week I started getting serious GAS for something semi-acoustic 335-ish. Some of you may remember me making various criticisms of that kind of design in the past, as well, so in a way it is bizarre, but I guess I just realised that I like the sound of a lot of guitarists who use this type of guitar, and started to think that maybe I might just be wrong about the whole thing!
The GAS was initially directed at the current Epiphone Sheraton ii Pro model, which does look lovely, and I also considered the bottom of the range Ibanez AS53, but then I remembered someone on another forum who'd had an ad up for an Ibanez AS103-nt model (not currently made). Went and looked at the ad, plus a bit of research on Youtube and elsewhere, and by all accounts these are tremendous guitars. So enquired with the seller, and offered to pay his asking price if it was still up for sale. And happily a deal has been done, for guitar and original Ibanez hard case as well. It's one of these beasties: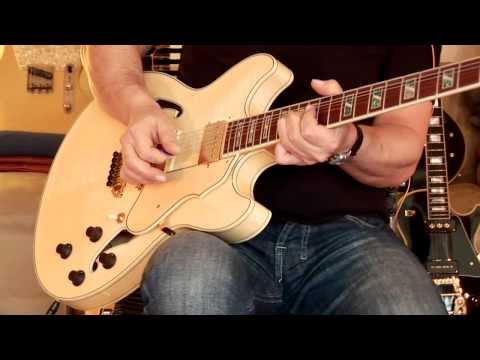 although mine is a slightly later version which has a standard stop-bar tailpiece in place of the fine-tuning thing. But otherwise the same - gold hardware, pearl and abalone block inlays, multiple binding, flame maple all over the place - somewhat blingy, but I always promised myself a proper blonde guitar one day, and I like the look, bling or not
Pics will be posted when she arrives I promise - hard to wait at the mo.